​
​
Demonstrating Operational Excellence is a well-used mantra of those in charge of managing programmes in major projects, but how do they turn this mission into meaningful and best-in-class operating frameworks? The biggest challenge isn't having the passion and desire to manage projects in accordance with best practice. More often, its their lack of ability to be able to measure and demonstrate the impact of operational excellence.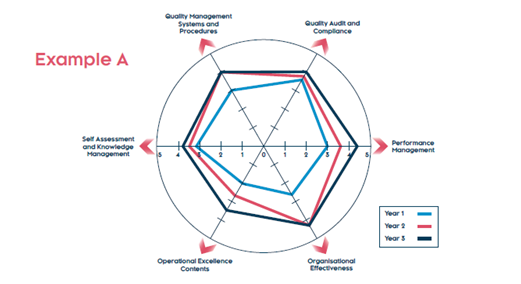 Model overview
Overview of our approach
The Shirley Parsons Gap Analysis model sets out the approach by which we are able to identify and quantify relative strengths of Strategic Quality Management, both across multiple projects and over time within one project.
​
​
​
​
The Gap Analysis technique is predicated on measuring the maturity and performance of six fundamental aspects of a successful quality outcome:
An effective Quality Management System (QMS) and related processes

Audit & Compliance

Performance Management

Operational Effectiveness

Operational Excellence

Self-assessment & Knowledge Management
The data gathered from the gap analysis process is delivered via visually powerful RADAR (spider) diagrams to help facilitate targeted actions to strengthen Quality programmes, as well as demonstrate measurable impacts of continual improvement.
​