​
Interview with Andrew Hughes, Global Health & Safety Director, ISG
Andrew Hughes was born and grew up in New Zealand; he transferred to the UK in 2000 as an EHS Manager for the Kraft Heinz Company. After 29 years with Kraft Heinz, having reached the role of Head of Global ORM – Safety, Health and Environment, Andrew joined global construction specialist ISG, in March 2020 as Global Health and Safety Director. Now almost a year into the job, in a very different sector, and during the colossal impact of a worldwide pandemic, we chatted to Andrew about his new challenge.
​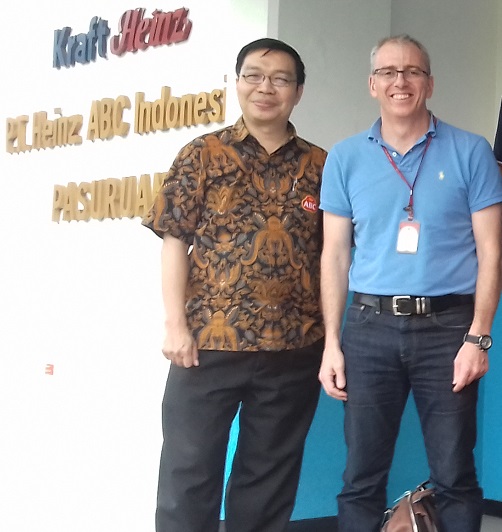 ​
After twenty successful years, why did you decide the time was right to leave Kraft Heinz?
In my final role at Kraft Heinz I'd had two and a half years in an international assignment and the extensive travelling that entailed. I felt it was the right time to step away from both a personal and family perspective. I wasn't sure what direction to take next, but I received an interesting call from Liam at Shirley Parsons, asking if I'd be interested in a role in the construction sector. When I went to talk to ISG it was clear that here was an organisation with great vision and values and an appetite to be the very best in its sector – this ethos really appealed and I instantly knew I could make a real difference to achieving these goals. The value system here is excellent; encouraging employees to speak frankly and never stop learning, always moving forward and innovating. ISG recognised that my skill set and expertise could continue the evolution of its health & safety journey. My strength is in overview and strategy; I started in operations and can understand functions from ground level all the way up to the top and that gives you an understanding of the issues and stresses a workforce is dealing with.
​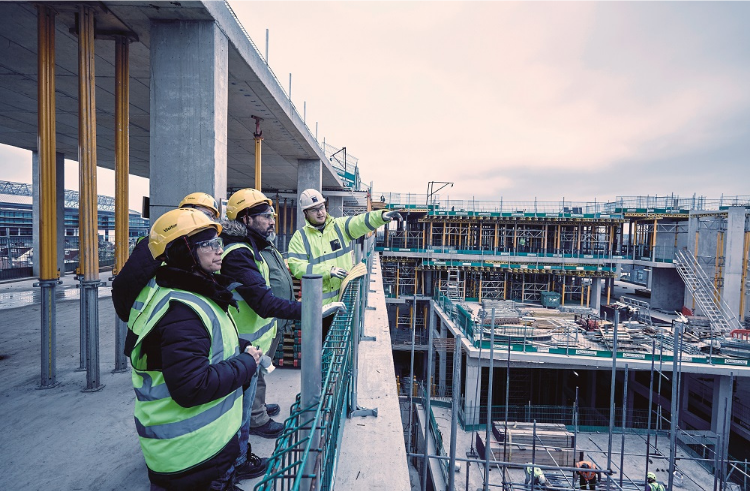 ​
What attracted you about ISG?
I think ISG matched my aspirations. When I was in the food industry, I wanted to be the best at what I did, not only in food, but across the board, and I have taken that approach with me to ISG. There are a lot of great companies in the construction industry, but you have to benchmark outside your sector and look at other industries and see how they are utilising best practice. We have to strive to be as good as we possibly can; I'm from a small country, but our ethos is always to aim to be the best! ISG has a fantastic team who really welcomed me on board, just two weeks after the first lockdown last spring, so very challenging circumstances.
​
Why did ISG go for a 'Food' guy?
I know the recruitment process was carefully planned and considered and ISG talked to a number of candidates across the construction industry, but I know that this is an organisation that thinks and acts differently and is always looking to bring in new ideas, insights and concepts. They are unafraid to take risks and actively recruit from outside the traditional pathways to bring vibrancy and innovation to the business and ultimately I believe they saw that I shared the same goals and aspirations. ISG has always been at the forefront of health & safety excellence, but I think they recognised that I would bring a different dimension and strategic perspective to the business which was very appealing.
​
What is your remit at ISG? What vision/mission do you have for HSE at ISG?
Even in the midst of this global pandemic, which has brought additional complexities to the day job, I have been able to facilitate a three-year HSE Strategic Plan (Strat Plan) for ISG. This overarching strategy brings real strength and clarity to our global business, and we will be publicising more about this later in the year. The Strat Plan has four main streams;
1. Discovery, which is about understanding work as done and establishing that safety is the presence of positives not the absence of negatives.
2. Standardise and develop, which is about improving our group standards and the development of our H&S people.
3. Celebrate success and simplify, which is about focussing on increasing the number of things that go right and decluttering, and
4. Anticipate and enhance, which is about being an early adopter of technological advances and benchmarking against the best in the world.
This strategy is all about getting all of our people to think big and bold, being unafraid to throw radical ideas into the hat and to always question 'what is the next level we should aspire to be?'. Matt Blowers, Chief Operating Officer for Fit Out at ISG, has main board responsibility for health & safety and he's really excited by this direction of travel and the cohesion this is bringing to the global business. ISG has a very broad spectrum of clients; from healthcare to schools, datacentres to advanced manufacturing facilities and logistics and distribution centres; and is widely known as the UK's largest office fit out specialist. It's a really exciting and diverse place to be.
​
​
What challenges did you experience being new to the construction industry?
Well, obviously there was the significant challenge of the COVID-19 crisis, which has impacted everyone, but otherwise it has been a fairly seamless transition. ISG has a wealth of highly qualified technical health & safety talent in its ranks, and this has undoubtedly helped ease my transition into the sector. The nature of ISG as a business means that my team are open to new ideas and innovations that can help transform the support they give to stakeholders and this has been hugely helpful during my first year in post. During the recruitment process, Lisa and Sarah from Shirley Parsons gave me a lot of support; ISG are a company prepared to look at talent first, rather than just background and experience. Having made the jump, I really believe it has been so worthwhile.
​
What have you achieved in your first year?
The three-year Strat Plan is the foundational element and brings alignment across the global business. We have real momentum, and it doesn't matter who I'm talking to across the Board members they all feel the same way too. I've completed a series of safety leadership presentations with the Board and they have absolutely embraced the concept and really get it! Sometimes people find it intimidating to explain the technical insight of HSE to managers; I find the power of story-telling, my own personal experience, even if things haven't gone quite to plan, to be the most engaging way to get the message across. The ISG Board understood the learning aspects and they are actively impatient to keep the progress going – construction is big on getting stuff done! The Board is keen to make it happen, and I'm thrilled at where we are now.
​
What are your goals for the coming year, and moving forward the next three years?
I would like to bring more emphasis on health, and in particular mental health in the workplace. This is a key issue for employers moving forward - we need more focus on the prevention of stress and improving employee wellbeing, not just teaching resilience. I'm looking to instigate a strong occupational health and safety programme. It can be difficult when you have so many things to juggle, but it's all mapped out now for the next three years in terms of ambition and aspiration and ISG is prepared to back that and make it happen.
​
What skills/attributes do you look for in your team?
For me it's all about finding employees with initiative, who have the strength of their own convictions; I'm not the person who has all the good ideas! I want people to use their initiative and be there to foster it. It's all about liberating people to use their full creativity and innovation.
​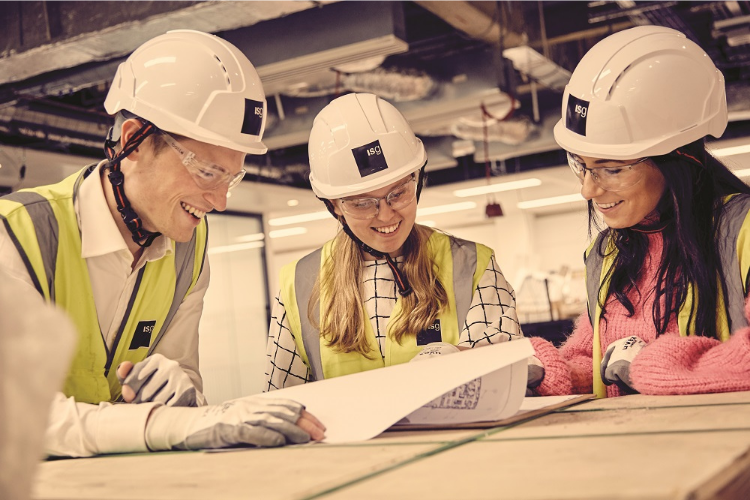 ​
What advice would you have for other HSE Directors with a similar challenge?
Well, I guess firstly it's about one of the Safety II principles – get close to the work. You need to really get to understand the business from the ground up, talk to the employees who actually do the work, they are the ones who can tell you what needs to be done and where improvements can be made. HSE staff needs to talk to employees, open up a line of communication and really understand the problems being faced on a day to day basis; asking different questions – "what do you do on a bad day", "what challenges have you encountered". I tell all our team members they need to go to the site and learn two new things each visit. Doing this well will give us a much better idea of where some of our biggest risk factors are.
I believe that ISG is in a really exciting place; we've got the future to shape for ourselves. ISG has always supported creative thinking and innovation at every level in the organisation – I'm helping to channel and focus this in an area that is often overlooked for creativity and radical transformation. There is real momentum and support behind our new strategic plan and next year is going to be very exciting.
Good things can come out of a crisis, even one as crippling as the current pandemic. Early on in the first COVID-19 wave, ISG self-developed and released an application to all employees' phones which collated and shared best practice for a full range of operational site procedures within the new social distancing regime. The entire project was put together in about six weeks, which is an incredible achievement, and shows the creativity of our business to get things done. This application was shared with the industry through our partnership with BuildUK and was also adapted to enable schools to get back up and running safely. This is just one example why I'm extremely pleased to have made the leap into construction and joined such an inspirational organisation.

Interested in joining ISG? Contact Lisa Toms at lisa.toms@shirleyparsons.com
Does your business need a visionary like Andrew? Contact Liam Tiddy to discuss Executive Search at liam.tiddy@shirleyparsons.com
For dedicated HSEQ recruitment to support your team to grow contact Darren Brooks at darren.brooks@shirleyparsons.com
Looking for your next HSEQ Director position? Contact Liam Tiddy at liam.tiddy@shirleyparsons.com