​​The One Percent Safer movement highlights a very scary statistic – that 2.78 million people died last year due to workplace accidents and work-related illness.
By applying the marginal gains theory that has driven improvements in diverse areas from Olympic cycling to aviation, 28,000 lives can be saved be just a one percent improvement in health and safety at work.
On April 28, One Percent Safer: Live & Direct, is an interactive virtual conference that will gather leaders and thinkers from the worlds of health and safety, academia and commerce to debate how we can prevent more deaths at work.
Shirley caught up with Dr Andrew Sharman, Creator, Director and Trustee of the One Percent Safer foundation and her contact for over 20 years to find out more.
​
Spawned during lockdown
"One per cent safer is an idea that was spawned when I was on lockdown in Scotland at the start of the COVID-19 pandemic last year. Having seen the stark statistics - nearly 2.8 million lives lost a year, that's one every ten seconds – I knew I couldn't accept these statistics. I hatched the idea of somehow harnessing wisdom into some sort of compendium that any leader, anywhere, could access and put into practice in order to build some incremental progress towards a safer, healthier world of work. I fired off a few emails and, after a while, the contributions came and kept coming in and within 4 months I had 142 from my 'professional heroes', eminent academics, top-notch scientists, business leaders, those with a story to share. The book was published in September 2020 and we have created a charitable foundation to champion the concept and to distribute the funds raised from the book and all our other activities such as the conference
​
All proceeds go to a charitable trust supporting the safety
The proceeds from the sale of the book go to the One Percent Safer Foundation which is a charitable trust set up to alleviate vulnerability in OSH practitioners who have lost their jobs through the pandemic and also to provide seed capital grants to SMEs who perhaps don't have the benefit of having a full-time health and safety expert but want to make their business a little bit safer. We're particularly focused on 3rd sector organisations, community councils, churches, anybody that just doesn't have a lot of cash but needs a little bit of support.
​
The One in Ten - People aren't statistics and lives matter
One of the songs from childhood that I really identified with was the UB40 song "One in 10" which highlights how statistics can easily dehumanisation issues.
I was standing in the boardroom of one of the world's top ten biggest companies and the senior leadership team were telling me how committed they were to safety and how proud they were that their LTI rates were the best they have ever been.
I said, "But what about the fatalities?"
And they said, "We don't include fatalities in our LTI rate." Nobody in the room could tell me the names of the two men that had died at work for their business that year. I put the photographs on the screen and said these were the two people that you killed. I explained who these men were, what their names were, what their wives' names were, what their kids' names were, how long they worked in the business. Nobody in the room knew anything – they were just numbers on a list.
I think we've got to get away from a reliance on statistics and start treating colleagues as humans.
​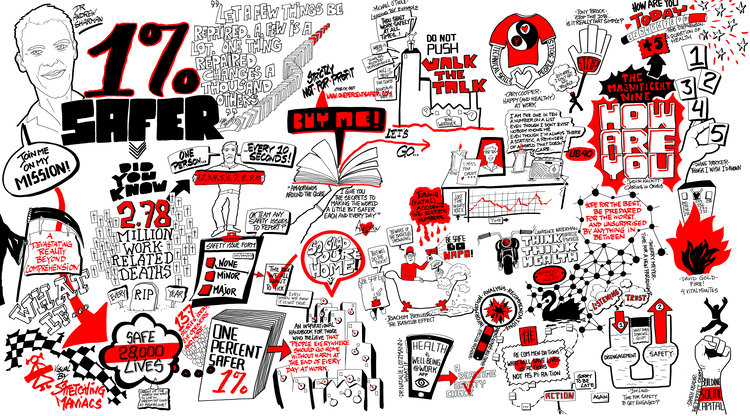 ​
Resourceful Humans, not Human Resources
One initiative I love to see is making the old "Personnel" department more personal. We can't treat employees as bags of powder and bottles of chemicals and pieces of wood. They are not just a resource to be used in a business.
And I think we need to move from HR to RH. It is Resourceful Humans that we have in our business and it's the resourceful humans that we employ that ensure that we have success as a business and this started to really appeal to me and I've been kind of thinking that.
​
COVID may have shown leaders to be more human
The one positive result of COVID is that leaders have been forced to become more human. And what I mean by that is that Covid has broken down the hierarchical barriers between Big Boss and worker that have existed traditionally,
Late last year I was on a live Teams broadcast with a new client and the CEO was doing his piece to introduce me to the top 100 managers in his business and his cat jumped up on his desk and walked across the desk in front of him. He profusely apologised to me and said he was so embarrassed and I said this is a fantastic thing for you because it proves that you are human!
We caught up a couple of weeks later and he said, you know, I've had so many people asking me about my cat, and it feels like I'm one of them. Now I'm one of everybody else in our business rather than just the big boss.
​
Being human is the best thing for safety
Often when I talk to senior leaders in coaching or in programs and they say look, I'm totally committed to this safety thing. I'm just not sure what I should do. I'm not sure how to do it.
I just say if you are committed, just then be authentic and by simply getting out there and asking meaningful questions, then that's kind of where they realize that safety leadership is not some black art. It's not something that only the health and safety manager can do, that it starts to feel much more comfortable and not only do you get a more authentic culture, but you also get a much more sustainable culture too.
Shirley Parsons, Founder and Chief Executive of Shirley Parsons said "I first met Andrew at an awards dinner in London more than 20 years ago and, as well as being a commanding presence in the room due to being 6 foot 6 inches tall, he has always been a passionate voice within the global safety community. He has given me numerous pieces of advice as well as introductions to key contacts throughout the industry over the years. I could listen to Andrew talk for days and I am sure that the One Percent Safer event this week will be a fabulous opportunity for safety professionals to learn and develop."