​In March 2022 we asked Health & Safety professionals on LinkedIn what qualification they had found the most useful to their HSE / EHS career?
We had 973 people vote, with NEBOSH Certificate/Diploma receiving an astounding 68% of the votes. Following shortly behind was the NVQ Level 6 award with 13%. Then, the NCRQ Certificate/Diploma with 11% and others obtaining 8% of the votes.
The poll created a health debate on our LinkedIn feed and the one below from Lee Rigby summarises the pro-NEBOSH majority:
"NEBOSH Occupational Health and Safety Diploma have been the most useful and educational H&S course that I've been on in my time as a practitioner. Would definitely recommend for any practitioner wanting to gain the required H&S knowledge. It's not easy by any stretch of the imagination but definitely worthwhile on the end." –Lee Rigby, Health & Safety Director at Caldwell Construction Ltd.
​
Certified Safety Professional is the top certification for the USA
On our USA LinkedIn we asked "Which certification have you found the most beneficial to your EHS career?" With the following answers: Certified Safety Professional, Certified Industrial Hygienist, EHS/OHS degree or other.
We had 640 people vote with Certified Safety Professional outstandingly winning by 59%. EHS/OHS degree received 22% of the votes, and Certified Industrial Hygienist merely gathered 8% of the votes compared to others which received 12%.
​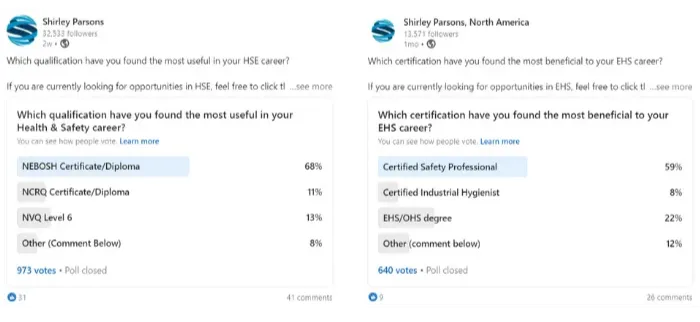 ​
A healthy debate from HSE / EHS professionals
We had multiple comments from health and safety professionals giving their insights and opinions on what is more beneficial, a qualification or experience?
People skills, the ability to work with others with different backgrounds and cultures, communicate and transfer your knowledge, and influence behaviours for a safer environment are critical.
IOSH and SAMTRC were other frequent certificates required for an HSE professional in Britain. However, many had scepticism on their importance or relevance today. For the US, CSP was mentioned as outdated and not beneficial. However, in specialist and technical level jobs was still considered depending on organisation, the position, and the hiring manager philosophy.
In addition, they strongly agreed with those in the construction industry that a CIH certificate was the differentiator among candidates. Also mentioned was TEEX Certified Safety and Health Official® (CSHO) in either General Industry or Construction as valuable.
Other certificates such as NFPA FF 1 & 2 and NREMT – P were mentioned as solid foundations for an EHS career. Others mentioned were CMSE, SSH, SHEP, CHSO, CSMP, CSHP and DGSA for North American professionals.
A degree in H&S was strongly mentioned as another direction to learn the basics and begin your HSE career. A degree is significant in the US and nearly required in all EHS jobs. It is not as limiting compared to certifications that focus on specifics skills.
Although, a good mentor or inspirational figure were mentioned to have a more prolonged, lasting effect on a health and safety professional's character.
Passion for safety is nonetheless essential, as Darren, construction health and safety professional, explained it: "When I got my 25m swimming badge. It taught me that I could swim 25m. I took that forward into the rest of my life 37 years later. I know that's not safety related, but I can still swim 25m. If you put your heart and soul into things. You can achieve greatness."
The determination to understand your role as a health and safety practitioner can better equip your ability to perform. Qualifications are building blocks upon your experiences in the field that widely amongst the comments was mentioned were vital in forming trust amongst your peers.
In conclusion, our LinkedIn community believe that a certificate or qualification is essential as a starting block in our profession. The entry-level build upon the higher-level ones, enhancing your skills.
Thank you to everybody who commented and voted. We love to see that engagement in the HSE & EHS community.
​
Join our LinkedIn Communities: UK, USA, Denmark, Taiwan
View our latest HSEQ opportunities here

​
What are the certificates mentioned in the polls?

NEBOSH Certificate/Diploma
NEBOSH stands for National Examination Board in Occupational Safety and Health, a UK-based independent health and safety examination board, offering professional qualifications in health, safety, and environmental management, recognised in 30+ countries.
The certificate has specialised varieties of HSE sectors, including construction, fire safety, oil and gas operations, environmental management, and well-being in the workplace. There are no formal entry requirements. The certificate helps build awareness of HSE practices, whereas The NEBOSH Diploma is one of the most prestigious and comprehensive health and safety qualifications available. The diploma builds upon the skills gained from the NEBOSH certificate.
​
NCRQ Certificate/Diploma
NCRQ certificate and diploma work similarly to NEBOSH's certificate/diploma. NCRQ assessments are designed to emulate real life requiring the applicant to demonstrate the skills that employers would want in a safety management role in an organisation: dealing with complex or high-risk activities. You will learn to understand various risks to safety and occupational health in the workplace.
​
NVQ Level 6
NVQ Level 6 is a globally accepted professional health and safety qualification recognised by The Institution of Occupational Health (IOSH), focusing on work based on on-the-job training.
The NVQ Level 6 is designed for those who provide health and safety assistance in organisations with significant hazards and complex risks. The NVQ develops your knowledge to implement Health and Safety policies and practices in the industry on effectively communicating these policies and procedures by understanding the role of a health and safety advisor. You will learn to identify, access and control Health and Safety risks by developing and responding with proactive and reactive monitoring systems.
​
Certified Safety Professional
The Certified Safety Professional certification is offered by the Board of Certified Safety Professionals, recognised in over 190+ countries. It is awarded to individuals who work in health and safety—those whose role is to prevent hazards and uphold safety standards in their organisation. The certificate aims to highlight your demonstration of mastery in the core knowledge that professional safety practices are met.
You will learn how to apply management principles, ergonomic analysis, and risk management on the course. Identify legal and regulatory issues in OSH and security. Use engineering concepts for OSH, occupational health, and fire protection. Lastly,
Apply concepts of probability, statistics, and basic sciences.
​
Certified Industrial Hygienist
A certified industrial hygienist (CIH) is eligible for those who have a bachelor's degree, have professional field experience, and can provide two professional work references. The education and training include recognising health hazards and determining how to manage them. A CIH teaches you to be knowledgeable in human health and safety but may specialise in specific areas depending on the industry and employer.
The CIH certification must be renewed every five years. The certification maintenance process consists of multiple steps. It involves a point system that can be gained through further educational courses, teaching, mentoring, attending conferences, giving presentations, authoring, participating in committees, and general professional work. Hygienists can also choose to retake the examination rather than achieve certification maintenance credits.
​
EHS/OHS degree
Occupational Health and Safety Degree is a degree awarded in a multidisciplinary field in people's safety, health, and welfare at work. The qualification covers the practical skills essential to health and safety professionals. It assists in developing the professional's ability to make sensible and proportionate decisions with knowledge and delivery of positive changes throughout the workplace environment and meet the needs of the business.
View our latest HSEQ opportunities here