​Since its launch in 2004, LinkedIn has steadily grown in popularity to become the world's largest professional network with 800 million members in 200 countries worldwide.
The HSEQ sector is one of the leading adopters of the platform. Every major employer uses LinkedIn, and, as a result, you cannot afford not to be on there. But just having a profile is not enough – you need to demonstrate your professionalism and communication skills to stand out to employers in 2022.
Here are our 10 tips to give yourself the best HSEQ opportunities via LinkedIn.
​
1. Use your title effectively
The headline is one of the essential elements of your LinkedIn profile. Not only is it one of the first things users see when your name appears in the search results, but LinkedIn's algorithm also uses it as a factor in how well your profile ranks in searches.
Using your LinkedIn title effectively to describe your current position accurately helps recruiters find you more quickly and will most likely be the first thing they look at when they land on your profile.
You might have a job title that differs slightly from the industry standard - ensure you optimise your LinkedIn title for both, as health and safety recruiters will usually go with the most common title as a starting point for their search.
​
2. Change your URL
Additionally, setting up your LinkedIn profile's URL to merely your name and surname is fundamental.
It's a simple fix to ensure you're more noticeable and less robotic to health and safety recruiters.
You can change this by going to the slide of your profile in the top right under 'edit public profile & URL'.
Jay Vekaria was named one of the most influential EHS professionals on LinkedIn in 2020 and is an excellent example to look at. Jay's URL is https://www.linkedin.com/in/jayvekaria
​
3. Change your banner
You wouldn't think changing your banner above your profile image would be significant, but it can improve your odds at landing that job you want.
The default banner in LinkedIn does not describe you, so making it into something that reinforces your CV can grab a recruiter's attention.
​

​
Here are three lovely examples from the HSEQ sector; Two of the "Most influential" in HSEQ in 2020 on LinkedIn;Jay Vekaria, Director of HSE & Risk Management at Visa; and Dr Andrew Sharman, Founder & Chairman at One Percent Safer and Robert Jukes, HSEQ Manager at Northwood Hygiene Products.
​
5. Write a perfect about section
Your about section is perhaps the most critical tool in persuading recruiters to contact you.
This is your chance to show yourself off and build a relationship with the recruiter. Write about how you help people, solve problems, and add value to your work. How dedicated and determined are you? What factors make you unique from others? Reinforce it by pointing out relevant experience that makes you look good in front of recruiters.
​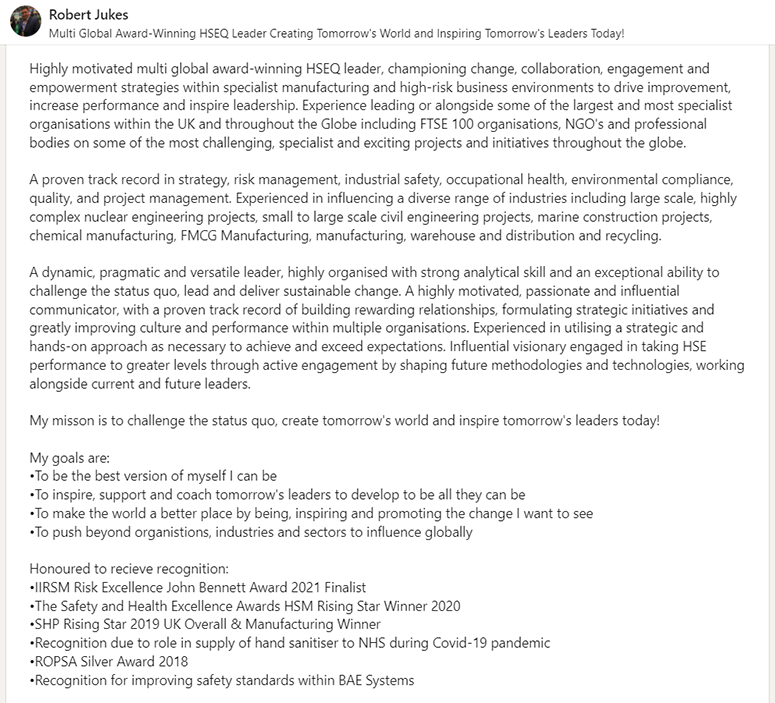 ​
For example, Robert has used his about section to tell us his achievements and mission brilliantly. What has he worked on, details that form a picture of who he is in the HSEQ sector?
Highlight your key responsibilities and what you have achieved so far. Your LinkedIn profile is effectively a digital version of your CV - so use it as a way of getting your name in the shop window.
You can keep it brief, but remember to make sure your information is relevant to the industry you're working in. That way, you'll make it much easier for potential suitors to find you.
​
6. Highlight your qualifications
Another way to make your LinkedIn profile stand out is to ensure your relevant health and safety qualifications are included. Within the Education section of your profile, you can include any NEBOSH, NCRQ and pertinent other qualifications by typing the examining body into the 'School' tab. Then add the qualification gained within the 'Degree' tab below.
Including your primary qualifications will show potential employers that you're qualified, giving you a much better chance of being headhunted or invited to apply for a role.
​
7. Show your memberships
As well as qualifications, memberships can be an excellent way to highlight your experience and know-how in the health and safety industry.
Displaying such memberships can help you land a role if you have relevant industry memberships. For example, memberships to organisations like IIRSM and IOSH can help to give your LinkedIn profile a greater level of authority in the eyes of health and safety recruiters. An easy way is to add your designatory letters after your name at the top of your profile, i.e. Shirley Parsons CMIOSH.
​
8. Posting your experiences
Setting up your LinkedIn profile is merely the beginning. Starting active on LinkedIn is the best to keep your LinkedIn maximised and your chances. Posting about your experiences, attaching images to your posts increases your visual identity. Highlighting what you're doing in the realms of HSEQ is vital in shaping your identity as a candidate.
​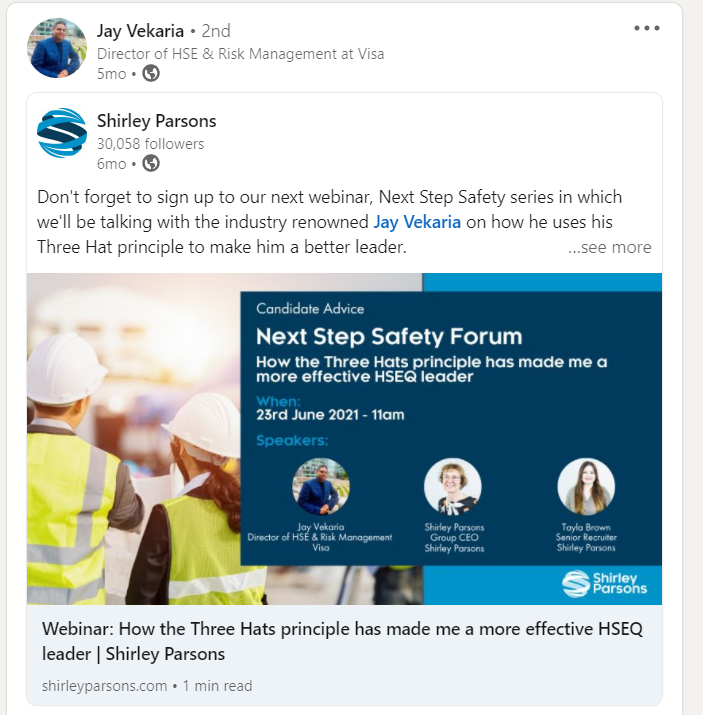 ​
For example, share what you are doing and when? A couple of months ago, we had the pleasure of speaking with Jay in our webinar on becoming an effective HSEQ leader or future leader.
Hashtag your posts further your reach. Posts with less than 3 or more than 10 hashtags have 20-40% less reach. The positioning of hashtags influences who sees your posts, so make sure to research what hashtags relate to you and recruiters.
​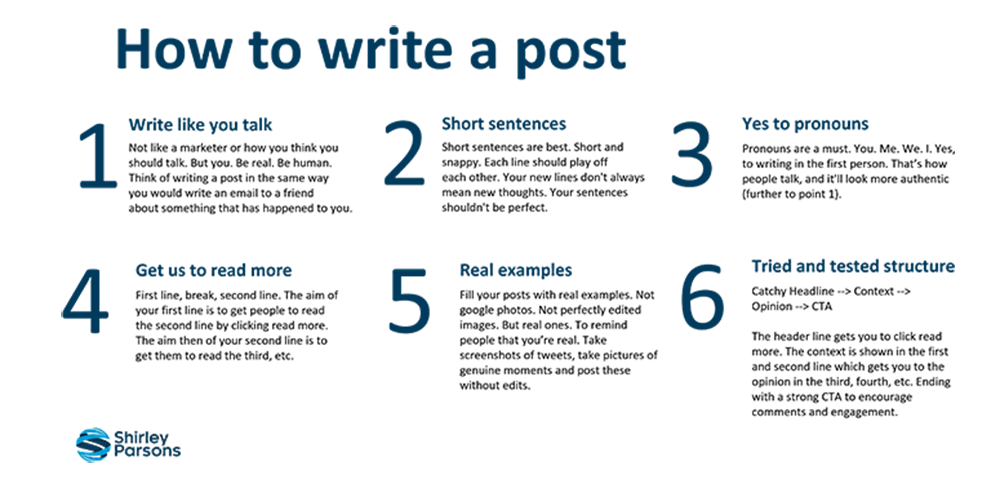 ​
A guide to writing the perfect LinkedIn post.
But, most of all, making sure you create content that can spark a conversation within your network will help you connect with the right people.
​
9. Commenting and sharing?
Compared to liking a post, commenting has 2x times more viewing and compared to sharing, they have 8x times views. Communicating with others on LinkedIn helps grow your network, and the bigger your network is, the higher the chance a health and safety role will find you.
Ensuring that you perform 2 actions per week, either messaging, endorsing other people, engaging on posts via comments and making connections to bring people back, keeps you relevant and in recruiters' minds.
​
10. Keep it professional
Lastly, LinkedIn isn't Facebook or Instagram; keep your page professional and appropriate for your target audience – fellow health and safety professionals and the wider business community. Share links and updates but remember these should be related to your industry.
​
Need a helping hand?
Are you looking for a new health and safety role? You can keep up to date with our latest openings on our LinkedIn page or search through our HSEQ vacancies on our website by clicking here.
But your chances are increased when you follow HSEQ recruitment companies such as Shirley Parsons. We advertise daily health and safety roles across the UK and Globally.