​By John Elliott, Senior Associate, Shirley Parsons
All too often the compliance and certification process is left until the end of a project. For fairly complex projects this creates a significant issue as it means that risks stack up over time, and problems remain unresolved or become difficult to fix the longer the project runs. A far more effective and efficient system is to manage the compliance and certification process on a continuous basis at the activity level, namely Progressive Assurance.
​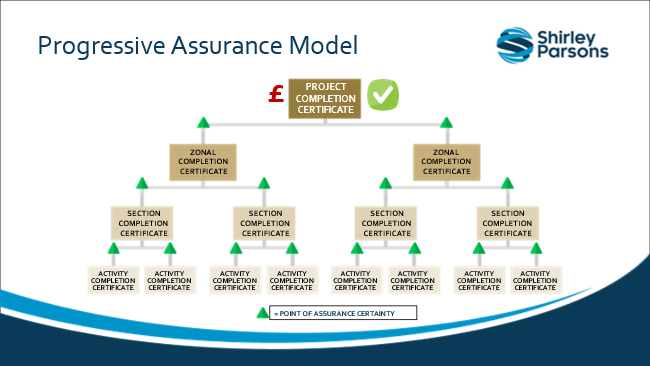 Progressive assurance explained
All projects consist of a number of distinct yet fully interrelated activities; the more complex the project the more interrelated activities there will be.
Activities are usually defined in terms of the construction process, site location and program timing. Connected activities can also be grouped together where they form a physical structure, or into a larger section or zonal groupings as appropriate. Comprehensive identification and grouping of activities allow even complex projects to be mapped from earliest activities through to completion.
Activities can adversely affect each other. For example, non-conformances that have not been rectified in an initial activity will affect subsequent activities, often when they will be harder and more expensive to address; for example, works will have been covered over or made inaccessible.
The use of the Progressive Assurance model will provide evidence of activity compliance continuously throughout the project lifecycle. Progressive Assurance requires that the compliance of each individual defined activity is demonstrated on, or as soon as possible after it is completed. In essence, each activity is assured and certified as a mini project.
​
Activity compliance is demonstrated by the submission of the applicable records and certification. Evidence that activity compliance has been achieved can also be formally documented by the issue of a completion certificate. Each of these activity certification points can be considered "Points of Assurance Certainty", i.e. that everything in the activity is fully complete and assured.
​
Progressive assurance benefits and how it can support regulatory compliance
If the Progressive Assurance model is followed, then a structured progression of "Points of Assurance Certainty" flows throughout the project. This will ensure that costs due to unresolved non-compliance and rework are minimised and that projects can be delivered to specification the first time.
The Progressive Assurance model has been used successfully on the Channel Tunnel Rail Link and Crossrail. In both cases, its use was required in the contract conditions and it helped to minimise rework.
On Tideway, where Progressive Assurance was not a contract requirement, the three main works contractors and the client worked together to create a robust PA process as it was seen to be of benefit to the project. It is very rare that this type of collaboration occurs where it is not mandated, and illustrates how beneficial Progressive Assurance was seen to be by all parties.
On a final note, I believe that the application of the Progressive Assurance model will help organisations to meet the requirements of the forthcoming reformed Building Safety Regulations. A robust system of Progressive Assurance will help asset owners to demonstrate their responsibilities under the new system.
For further information or advice on the progressive assurance model and how to implement it on a project, contact Jon Elliot, senior Associate for Shirley Parsons or visit our webpage on

Progressive Assurance here
.