​What's the most important factor for hirers when choosing between HSEQ professionals? Is it experience, qualifications or sector knowledge?
You may be surprised to learn that it's actually none of these. Our recent survey has uncovered changing priorities for HSEQ employers in the way they look to fill positions.
Read on to find out what all sizes of companies are looking for, and to ensure you know what you need to stress when you're looking for your next role.
​
Our survey
To find the leading attributes that hirers look for, we ran a customer feedback survey for Q1 2020. The survey was completed by more than 70 HSEQ hirers, including leading global organisations such as Siemens, Legal & General, CBRE and Balfour Beatty.

The data was then analysed and modelled to find the most important factors when hiring.

We also ran a candidate feedback survey over the same period, which was completed by more than 250 HSEQ candidates in a wide range of junior to senior positions. This survey was produced to identify what attracts candidates to new jobs. The results were analysed and presented in the same way.

Keep reading to find out what HSEQ businesses and candidates place the most importance on.

Revealed: What HSEQ hirers want from candidates
The key takeaway - and perhaps a surprising one to many - is that hirers regard a candidate's personality as the most important quality in a prospective new employee. A huge 97% of businesses classed this as very important. Communication skills are also valued highly with 95% regarding this as very important, with experience coming in at third on the list, with 85% valuing it as very important.
​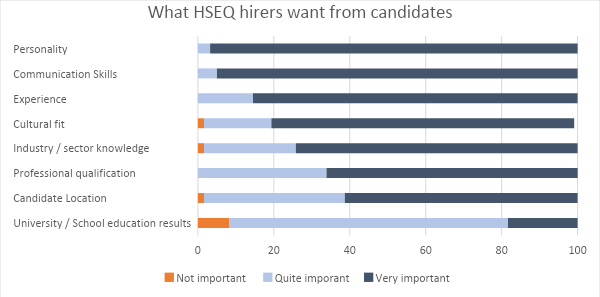 ​
Industry qualifications and sector knowledge were deemed more important than university and school education, suggesting those specialising in a particular area are better equipped to land HSEQ jobs.
Less of concern was candidate location, suggesting a changing of opinion towards flexible and remote working.

Revealed: what HSEQ candidates look for from employers
A good match works both ways, so it's important for businesses to understand what makes its employees tick and what potential employees look for in a new role.

The Shirley Parsons candidate survey found that the days of salary being the main driver for candidates are behind us; indeed, salary only ranks fourth on the list of most important things to attract HSEQ candidates.

Instead, candidates are looking for a workplace offering stimulating content and responsibilities; 94% said this was very important, with none regarding it as not important.

Clearly, the modern employee values a healthy workplace, with company culture and values scoring highly alongside a rapport with their manager.

Flexible working also seems to be a sought-after perk, with a quarter of respondents saying this was quite important while a further 73% said it was very important.
​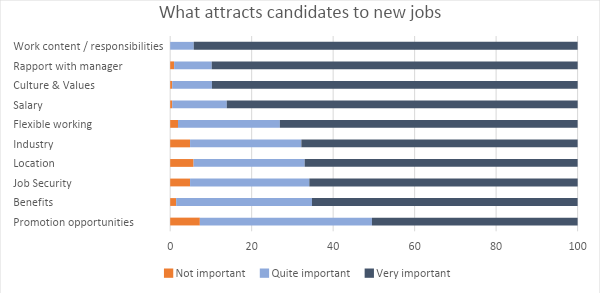 ​
Perhaps the most surprising results here are the low ranking of promotion opportunities (with 50% of respondents classing this very important) and job security (which 5% said was not important at all).

How can Shirley Parsons help?
Shirley Parsons recognises the importance of matching candidates and businesses that will work well together.

If you're a business with a new vacancy, we can support you by finding the right candidates to meet your needs.

And for candidates, we're expertly placed to handle your new job search. Our advisors and consultants will take into account your own personal circumstances and needs, and use them to find the ideal next step in your HSEQ career. Get in touch with us today.